Termidor – The Melbourne Homeowners Choice
Your Local Trusted Termidor Applicators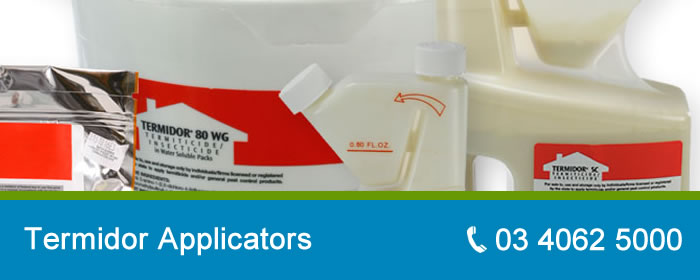 Termidor and Termidor High Efficiency (HE) are powerful termiticides designed to eliminate entire termite colonies.
They protect against the wood-destroying pest for up to ten years when used as a chemical barrier treatment. Both toxins are made by BASF and backed by their $2 million warranty.
Termidor HE is an advanced formulation of the original Termidor treatment.
It spreads further in the soil to create an extensive barrier that stops termites from destroying properties. According to BASF, it achieves 100% termite control in three months or less.
How Does Termidor Work?
Termidor is a non-repellent termiticide that the insects cannot detect.
Therefore, they'll enter chemically treated zones and unwittingly ingest the poison. Termidor is tasteless, odourless and colourless.
It is lethal to termites but slow acting so doesn´t kill them immediately.
Instead, when a termite comes into contact with the chemical, it becomes a carrier of the deadly treatment.
As the insects travel underground, they transfer Termidor to other termites. They do this by:
Contact between individual termites
Shared feeding and grooming behaviours
Termites are social creatures, and so the termiticide spreads through a colony, killing termites one by one until they're all eliminated.
How is Termidor Applied?
Termidor is applied by professionally trained, certified technicians who are accredited Termidor & Termidor HE applicators.
They install the termiticide following Australian Standards AS3660.2., which govern termite management.
The Termidor $2 Million Warranty
Termidor's manufacturer is so confident of its treatment that they back it with a $2 million warranty.
This covers your home for structural damage up to $2 million. If the insect pests cause damage following treatment, you'll be covered.
To be eligible for the peace of mind warranty, you have to meet the following conditions:
A Termidor Accredited Applicator must apply the treatment. Following application, you will be given a Certificate of Termiticide Application and Termidor Assurance Warranty Certificate.
You must commit to annual inspections by a licensed and insured Accredited Termidor Applicator.
After each annual inspection and provided all the conditions have been met, the warranty can be extended for another 12 months.
Note that the $2 million warranty is only valid if Termidor or Termidor HE have been applied correctly.
Termidor for Termites FAQ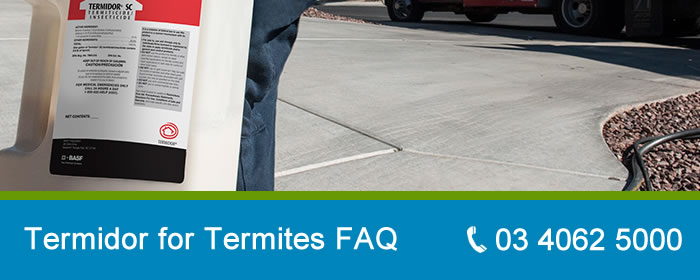 Is Termidor safe?
Termidor is one of the safest termiticides on the market and is no danger to children or pets.
It also binds tightly to the soil and will not leach to other areas even if there's a lot of rainfall.
Does Termidor work against all termite species?
Termidor works against all termite species and in all soil types and climates.
How much does Termidor treatment cost?
The cost of treatment varies and depends on various factors such as the size of the treatment zone, your particular situation and the pest control company you've engaged.
How long does a treatment take?
Typically it will take up to one day for a licenced pest controller to apply a residential treatment. Once in place, Termidor protection begins immediately.
How effective is Termidor?
Termidor is 100% effective.
Why Choose Us?
VIC Government Licence
$20,000,000 Public Liability Insurance
20 Years Experience
Background & Reference Checked
Affordable and Competitive Pricing
Offering Flexible Appointment Times
Children and Pet Safe Methods
Fast and Effective Management of Pests
We Guarantee Client Satisfaction
Free Quotes
Locations
Central Suburbs
Melbourne CBD
Inner City -South Yarra, Prahran, Richmond, Essendon, Collingwood
Eastern Suburbs and South East
Northern Suburbs
Western Suburbs
Mornington Peninsula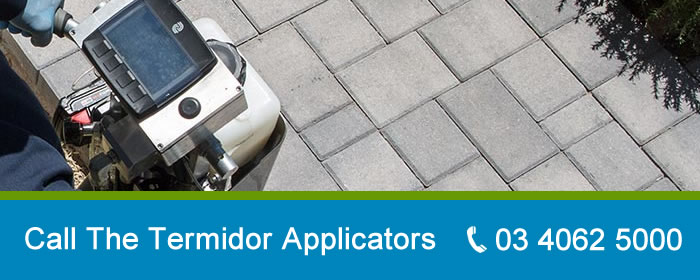 Contact Us
Schedule your free consultation for expert helps over the phone today.
Call our termidor applicator on 03 4062 5000.