Termite Inspections Melbourne
The Termite Control Professionals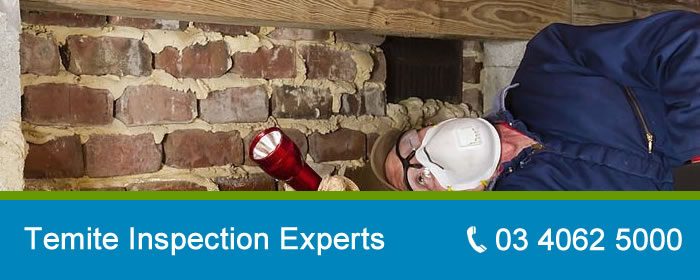 A termite inspection is your home's first line of defence against the wood and property-destroying insects. The tiny critters can cause expensive and widespread damage before you even realise you have a problem.
They have perfected the art of staying hidden. Even if your home appears sturdy and stable, they could be quietly destroying it. A termite inspection can spot an infestation before it becomes a major problem.
What Is A Termite Inspection?
A termite inspection is exactly what it sounds like – an investigation of your home or commercial premises to see if termites are present.
It can take anywhere from 45 minutes to two hours or more, depending on the size of the property.
During this time, the inspector will closely examine your home's interior and exterior areas, looking for signs of infestations such as mud tubes, damaged wood and discarded wings.
They will also check possible points of entry such as:
Expansion joints
Bath traps
Cracks caused by concrete slab or foundation settling over time
Cracks and gaps in walls, steps, chimneys and porches
Outside sources of wood such as a planter box or trellis
Cracks around door frames and window frames
Infested furniture brought into the home
The technician will use various tools such as a moisture meter and a thermal imaging camera while checking walls, windows, door frames, kitchen, bathrooms, attics, utility rooms and exterior areas.
Professional pest control companies conduct comprehensive termite inspections following Australian Standards AS 3660.2-2000, the national standard code of practice for termite management.
Areas Inspected
Internal walls, skylights, timber cabinets, floors, ceilings, roof voids, ventilation, architraves, door jambs, basement areas and more.
Garden beds, landscaping, soil, beams and trusses, roofing battens, beams and trusses, down piping and gutters, stumps, fence posts, dead trees and more.
Once the inspection is finished, the pest control expert will compile a report with their findings and recommend the next steps if infestations have been discovered.
Termite Inspection Tools
A few essential pieces of equipment are used during a regular termite inspection, such as:
Thermal imaging camera – infrared technology that detects termite heat signatures even behind walls, frames and under doors.
Moisture meters – can detect the presence of moisture in numerous materials, which may indicate the presence of termites.
Termetrac – a sophisticated termite detection device with a sensor, detection radar and remote thermal sensor.
Termite tapper – this telescopic-looking piece of equipment is tapped on wood around the home to detect hollowness. A change in tone could be because of termite damage.
Torch – a high-powered torch to shed light in the darkest recesses of a building where termites may lurk.
How To Prepare For A Termite Inspection
Here is a checklist of things to do before an inspection to ensure everything goes smoothly.
Remove any items from under your kitchen and bathroom sinks. Your inspector will be checking all water sources for indications of termite activity. If you have a garage, move anything that's leaning against a wall. Do the same for any items leaning against the exterior walls of your home and garage. Ideally, move everything two feet away from the walls.
Trim back bushes or other shrubbery concealing exterior walls and the foundations.
Make sure your attic is easily accessible, so tidy any clutter and move anything that could be blocking the entrance.
Avoid mopping floors or showering with the windows closed in the hours leading up to the inspection. Excess moisture could cause the meters to record false positives.
If you've noticed any termite entry around your home, make a note of the locations and tell the pros. This will allow them to focus their attention on these areas.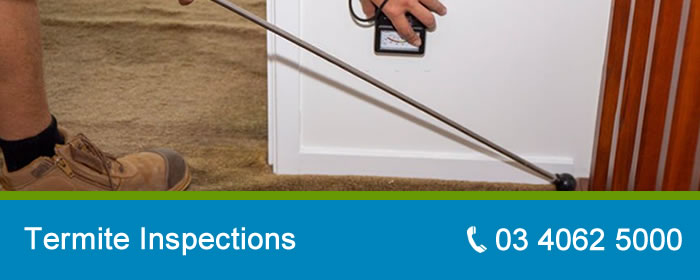 After The Termite Inspection
If the termite inspector has given your property the all-clear, you can breathe a huge sigh of relief; however, that's not the end of the story. To ensure you stay free of the destructive pests, follow these good practices and preventative measure:
Seal any holes or cracks
Reduce excess wetness in and around your home. Repair leaky taps and clear clogs from gutters and drains and poor ventilation
Don't let any wood or debris pile up outside your home
Remove dead trees and old tree stumps
Keep your garden or yard clean. Trim trees and shrubbery so they're not touching your home's wood surfaces
Repair your roof if there are issues such as damaged tiles and a broken attic entrance
Regularly clean your home
FAQs
How do I know if I have a termite problem?
There are numerous signs termites could be eating their way through your homes, such as:
Discarded wings
Termite faecal pellets (small piles that look like sawdust)
Blistering on wood surfaces
Dried out termite bodies
Mud tubes
Warped doors and windows
Hollow-sounding dead wood
A tapping noise (sound of termites tapping their mandibles and heads on wood)
However, the signs of termite activity often go unnoticed for months, sometimes years, which is why some people are landed with costly repair bills.
However, a regular inspection can spot signs of an infestation before it becomes a major problem.
What if termites are found in my home?
If they have been discovered in or around your property, the pest experts will recommend what action to take next.
They'll also be able to give you a quote for live  effective termite treatment services to eliminate the current termite infestation and prevent future ones.
This may include installing termite baiting systems and chemical barriers.
How much does a termite inspection cost?
The average inspection cost is around $220 but can vary between companies and areas.
The price is insignificant compared to the many dollars in termite damages if they go unnoticed in your home or workplace.
Why Choose Us?
Fully Licensed and Qualified Technicians (PCO's)
Public Liability Insurance – $20,000,000
10 Years Experience
Environmentally Friendly Products
One Off Or Regular Treatment Plans
Friendly & Reliable
Competitive Prices
Effective Termite Protection Measure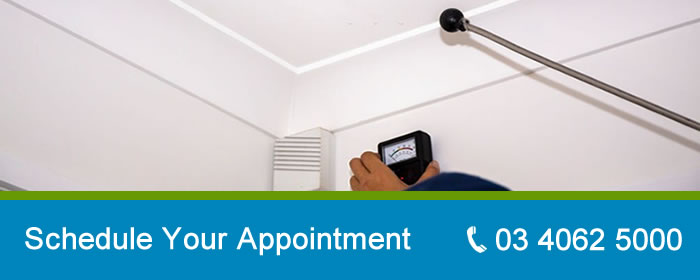 Service Areas
Central Suburbs
Melbourne CBD
Inner City -South Yarra, Prahran, Richmond, Essendon, Collingwood
Eastern Suburbs and South East
Northern Suburbs
Western Suburbs
Mornington Peninsula
Final Thoughts
It is not difficult to eliminate a termite problem and its food source if it's discovered early.
A professional termite inspection prevents serious and expensive piece of timber damages from happening, potentially saving you thousands of dollars on repairs in the future.
Therefore, it's a good idea to schedule an annual inspection to ensure your home is always kept free of termite attacks.
Call us now for your inspections and professional pest control service.
Contact us at 03 4062 5000.