Termite Barriers
Quality Termite Protection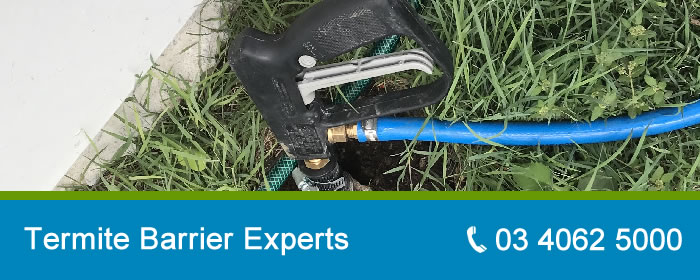 Termites are destructive pests and difficult to eradicate. The insects will stop at nothing to get into your home, where they'll chew through wood, plaster, brick and just about anything else.
Your garden fence won't stop them neither will your four walls. However, there are ways to keep the tiny creatures out.
If you live in a part of the country prone to termite infestations or you've had an infestation in the past, you may want to consider termite barriers to prevent termites from entering your property.
There are two principal types – physical barriers and chemical barriers.
Chemical Termite Barriers
Chemical termite barriers provide long-lasting deterrents around a building or under concrete slabs and foundations.
Pest control experts spread a liquid chemical known as a termiticide into the soil.
Like a physical barrier, they prevent they create a safe zone that prevents termites from entering the space.
How Does A Chemical Termite Barrier Work?
A trained and qualified pest control expert will dig small trenches around a property and fill them with a liquid chemical known as a termiticide.
It has to penetrate the soil to a depth of at least 10 centimetres to be effective.
If the chemical barriers are under concrete slabs or pavement and cement, the technician will drill small access holes for the termiticide and then plug them.
A chemical barrier will either repel the insects or use a toxin that kills them.
The former is less effective because the clever pests simply look for other ways to access a building.
The second type of chemical barrier uses a non-detectable toxin that targets termites without them knowing it. They can't smell or taste it.
When a termite comes into contact with the termiticide, they do not die immediately.
Instead, they unwittingly carry it back to their colony, where it spreads through mutual interactions such as food sharing and grooming.
Eventually, the entire colony is wiped out.
On average, a chemical barrier will give your property eight years' worth of protection.
However, longevity depends on factors such as the make of termiticide and how it's applied to the soil.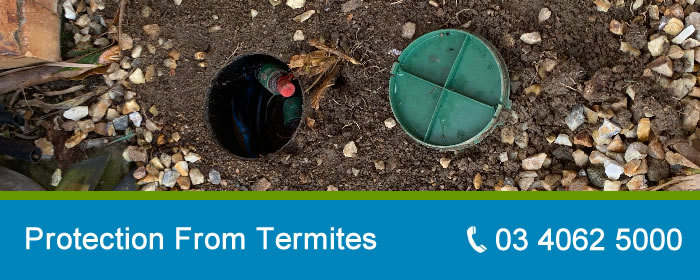 Types of Termiticide
Pest control companies use a variety of liquid chemicals for their chemical barriers. Currently, the most popular options are:
Fipronil (brand name Termidor)
Termites don't realise this odourless chemical is in the soil, so they continue foraging even after coming into contact with it. Termidor's active ingredient is fipronil, and it kills termites by ingestion, although not immediately. There is enough time for the insects to carry the poison back to their colony, where it quickly spreads.
Imidacloprid (brand name Premise)
Like Termidor, this termiticide is undetectable by termites. They come into contact with or ingest the chemical when they enter the treatment zone. And they take it back to their nest, where it's shared with other termites.
Bifenthrin – (brand name Bi-flex)
It is a chemical insecticide based on the natural insecticide of pyrethrum, a small white daisy. This termiticide quickly kills termites by paralyzing and suffocating them.
Physical Termite Barriers
Physical termite barriers only work against subterranean termites that live beneath the type of soil.
They penetrate our homes and buildings unseen, invading our structures through a network of underground tunnels.
As the name suggests, barriers are obstacles that physically block termites from entering a home.
They are typically built into the design of a building code and, if installed correctly, will provide lifetime protection.
A physical barrier is a layer of material added under the slab or around the perimeter of the slab before a house is built.
The material is usually a stainless steel mesh with openings too small for the termites to squeeze through.
Unlike chemical barriers, physical barriers do not kill or repel termites. They seal possible entry points the insects may use.
They are designed in such a way that they force the insects to build their mud tubes outside of the structure.
When they do, they are become visible, easily spotted by a pest controller.
It is worth noting that most new homes are built with physical termite barriers already in place.
Do I Need a Termite Barrier?
You should consider a termite barrier if:
Your home or commercial property is prone to subterranean termites.
You're about to build a new home or extension.
You're building a home or other building with materials that may be subject to termite attacks.
You want to increase the value of your home.
Termite Barrier Costs
The cost of installation of premises termite barriers depends on several factors, including:
The size of the treatment area
The type of barrier
The size of the property
To give you an approximate idea of how much you can expect to pay, the average cost is around $2,000 to $5,000.
While that may seem like a considerable sum, it is much cheaper than the comparison costs of repairing a termite-damaged property.
Benefits of Termite Barriers
Termites like a warm shelter with plenty of food and water, which is why they target homes.
Termite chemical barriers either repel the destructive pests or kill them outright and eradicate their nests. The key benefits of barriers are:
Peace of mind knowing your home or business premises is protected from an attack.
Saves you thousands of dollars in repair bills. Damage from termites isn't covered under home insurance. Installing protection is cheaper than potential losses.
Increased property value due to having termite protection. Prospective buyers can see it's protected.
Why Choose Us?
We are here to help you with all your residential needs. This is what sets us apart:
More than 10 years of residential experience
All types of residential pest problems solved
Our prices are extremely competitive
We use environmentally safe practices
Licensed and insured
100% customer satisfaction guarantee
Transparent billing with no hidden charges
Free, no-obligation quote and annual inspection
Modern Pest Control Technology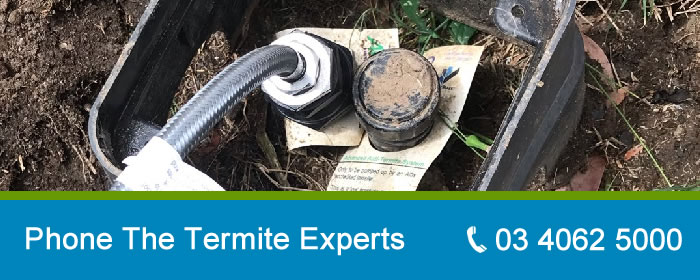 Service Locations
Central Suburbs
Melbourne CBD
Inner City -South Yarra, Prahran, Richmond, Essendon, Collingwood
Eastern Suburbs and South East
Northern Suburbs
Western Suburbs
Mornington Peninsula
Final Thoughts
According to insurers, one in three homes in Australia are affected by termite activity, which costs up to $5 billion annually in repair bills.
That's money that property owners have to fork out because insurers won't cover the cost of termite damage.
Therefore, if you don't already have physical or chemical termite barriers in place, arrange to have them installed at the earliest opportunity.
Doing so will save you from devasting property damage and horrendous level of repair bills.
You'll also have peace of mind knowing that the wood-destroying pests won't bring your house down.