Termite Reticulation System
Install and Refilling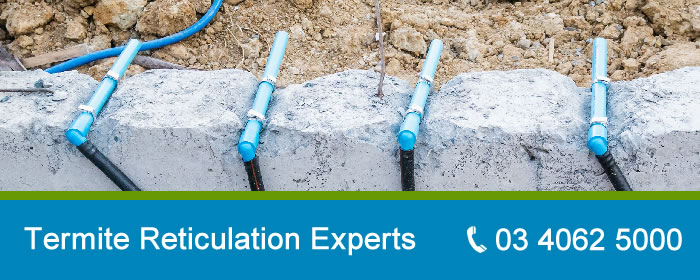 One sure-fire way to stop termites from entering your home or commercial premises is to install a termite reticulation system.
A termite reticulation system is a series of pipes laid underneath a building or around its perimeter.
It is designed to evenly distribute termiticide around the base of a property to create an impenetrable chemical termite barrier.
The pipes are specifically made for this purpose and are perforated with emitter holes to dispense the chemical.
The termite-killing liquid is pumped in under pressure and soon saturates the soil.
When levels are low, the entire system can be replenished via above-ground junction boxes (refilling stations).
Installing Termite Reticulation Systems
Termite reticulation systems can be used to protect new homes or ones that are undergoing renovations.
For example, if you´re building an extension such as a granny flat.
Australian standards specify that when owners add an extra room to their home, they must install a replenishable barrier between the existing foundations and the new concrete slab.
To install a termite reticulation system, an experienced pest control company will lay a network of strong, flexible, continuously perforated rubberised membrane pipes.
The system also includes filling stations that pump in termiticide once everything is installed.
One of the most powerful, popular and effective termiticides is Termidor. The toxin doesn't repel termites because they can't detect it.
Instead, they unwittingly pick it up and spread it to other termites through shared behaviours such as feeding. Eventually, the entire colony is wiped out.
Refilling Termite Reticulation Systems
Refilling stations are installed in concealed places such as behind shrubbery alongside outside walls.
Professional pest controllers inject insecticide into them using a high-powered pump.
Depending on the shelf-life of the chemical, termite reticulation systems should be refilled every three to five years.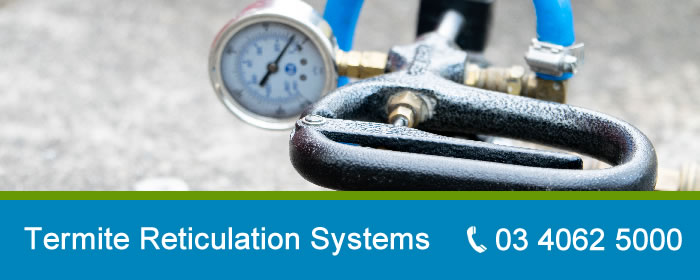 Key Benefits of Termite Reticulation Systems
Occupants of a building aren't exposed to insecticides.
Termiticide is injected without needing to drill holes in the floor.
Refilling the pipes with termiticide is easy.
Long-lasting and cost-effective protection against termites.
Termiticide is evenly distributed.
Termite reticulation provides long-term protection.
20-year warranty.
The pipe emitters distribute the chemicals at a pre-determined rate. This reduces the risk of areas being left untreated.
Perforated pipes so debris or mud can´t cause blockages that would make them ineffective.
Termite Reticulation Systems FAQ
Who needs a termite reticulation system?
Installing a termite reticulation system is a good idea if you live in a high-risk area and are building a new home or extension.
How do I maintain my system?
A professional pest controller will top up the system when required, typically every three to five years. This is to maintain its effectiveness.
Are reticulation systems always installed under properties?
Not necessarily. They can also be installed around a home´s perimeter in trenches dug for this purpose.
Can I refill my reticulation system?
You can, but you may lose any guarantee or warranty. Also, it's always best to leave matters in the hands of professionals when it comes to pest control. They have the expertise, experience and equipment.
Services
Termite Reticulation
Termidor Termite Barriers
Monitored Termite Baiting
Termite and Pest Inspections
Residential Pest Control
Commercial Pest Management
Why Choose Us
Termite Control Professionals
Reticulation Specialists
Termidor Accredited Applicators
VIC Licensed
Locally Owned and Operated Melbourne Pest Control Company
$20,000,000 Public Liability Insurance
Experienced and Reliable – If We Make an Appointment We Stick To It
Fully Licensed Pest Technicians
We Will Beat Any Competitors Price – Just ask us.
100% Customer Satisfaction Guarantee
Friendly Customer Service
Free Quotes & Advice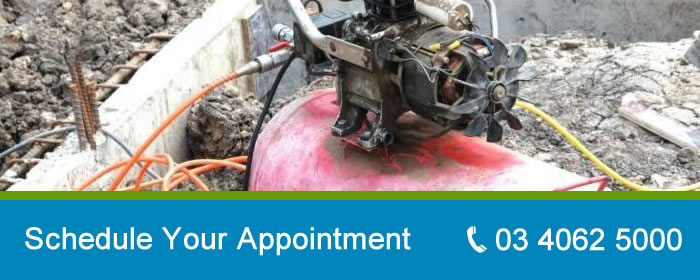 Service Areas
Central Suburbs
Melbourne CBD
South Yarra
Prahran
Richmond
Essendon
Collingwood
Eastern Suburbs
Northern Suburbs
Western Suburbs
Mornington Peninsula
Contact Us
Call our friendly team today for a free quote. Contact us for any questions on installing reticulation.
Phone 03 4062 5000.